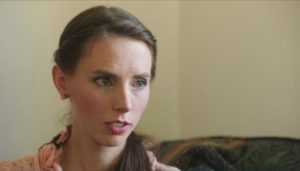 Most of us will have heard the story of the sports doctor who abused scores of female athletes in the States over a number of years. This Dr Larry Nassar was recently sentenced to 175 years in prison. The story concerns this blog not only because it was a story of abuse. It was an abuse story with a theological dimension.
One of the unusual features of trial of Dr Nassar was the way that the lady judge allowed each of the victims who wished it to make a statement to the court. No doubt she felt that such a public statement might help them to heal after years of not being believed. It is the statement of Rachael Denhollander who was the final victim to make a speech to the court that is of special interest. Rachel is a committed Christian and she felt able to bring her faith into her court room statement. Her speech has been viewed countless times on Youtube. In an interview with the magazine Christianity Today, she added further to her statement. Two points stand out of great interest. In the first place she explains how she struggled to retain her Christian faith in the face of her deeply wounding abusive experience. She found herself studying the Bible in an effort to make sense of what she had been through. The normal clichés about needing to forgive and move on were not going to help overcome the effects of her abuse. Her understanding of forgiveness towards her attacker which she articulated in her statement was based on a renewed commitment to an understanding that she had to trust God's justice. Believing in this was the only way to 'release bitterness and anger and desire for personal vengeance'. She also coupled her public statement of forgiveness with a call on Nassar to repent. This word implied that there needed to be a 'complete acknowledgement of the depravity of what he had done in comparison with God's holy standard'. Her personal struggle and need to heal with the resources of her faith has now given her the strength to minister to other victims and survivors.
The second part of Rachael's story which will concern us all are the comments she made about her own church. Through her experiences she found herself wanting to speak up for other victims of sexual abuse, some within the evangelical community itself. She soon came to realise that while the conservative churches are good at condemning sexual sin outside their boundaries, they are far less able to deal with crimes of sexual assault committed by their own members. Their instinct is to protect the institution at all costs. But there are other factors at work. Rachael believes that in many churches there is poor theology and a poor understanding of grace and repentance. Behind a weak theology of forgiveness, sexual predators can go unchecked, often for decades. She has noticed how in her case Christian publications and speakers have focused on her readiness to forgive. At the same time, they have failed to notice her stress on the existence of God's justice. A focus on cheap forgiveness allows a Christian to quietly sidesteps the costs that are involved. Also, easy forgiveness can be used effectively as a weapon against victims. Such victims can be made to feel guilty because they fail to forgive and let go as quickly as the leaders would wish them to.
Rachael and her husband have found themselves having to leave their congregation. The leadership of Rachael's church had been involved in restoring a notorious sex offender from the Sovereign Grace Ministries, C J Mahaney. He had covered up abuse in his church for 30 years. Rachael also witnessed the way that in this process, the suffering of victims was downplayed and vilified. She and her husband were told by church elders that the church was not a place for her. She also had had to listen to lies and untruths being told about what had happened in the church abuse story. Rewriting history, she felt, was a typical reaction by many evangelicals when facing up to painful uncomfortable events. Sexual abuse within its communities in particular needed to be airbrushed out of a church's story.
Rachael's witness statement can be viewed on YouTube. https://www.youtube.com/watch?v=wehpkiflXMs It is an important witness to the way that a Christian woman can use the resources of the Christian faith to help deal with the aftermath of sexual abuse. The speech also is also a confrontation with weak systems of oversight within institutional Christianity. These may want to put the institution before the needs and sufferings of individuals. How much have we heard this story in Britain recently?
Christianity Today is a fairly conservative Christian journal and it is interesting that it has carried this interview inside its covers. Perhaps the journal wants us all to hear this message of the importance of the right kind of forgiveness and the importance of proper support being offered by churches to victims of sexual violence. Here in Britain we especially need to hear this message of putting victims and survivors ahead of the institution. Saturday 10th February is a day when General Synod of the Church of England hears a presentation on Safeguarding. This will be an important occasion. We will see whether the Church of England is finally learning to reach out to embrace the needs of abused individuals. Alternatively, is it going to, according to the advice of lawyers, do everything in its power to protect itself and its reputation?