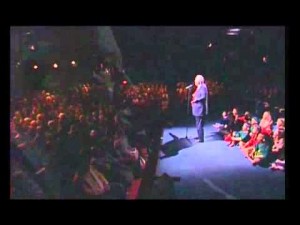 I have now written roughly 50 blog posts and I suspect that my readers may be getting weary with the theoretical material that I have unloaded on to this site.  Today I am going to present material of a different kind.  This is information from a well respected blog which I have been following for the past two and half years.  It concerns an actual church in the here and now that epitomises many of the issues that we are concerned with.
Trinity Church, Brentwood (formerly known as Peniel) is a Pentecostal independent church founded some 35 years ago by one Michael Reid.  There is much material from its early history that is fascinating, especially how it grew (house-church style) from a domestic front room to the large edifice it has today.  It maintained a reputation for healing miracles and advertised widely on billboards to this effect.  I personally had a fleeting contact with Michael Reid (and his assistant Peter Linnecar) on a visit, way back in 1998.  I dwell on this visit for a moment because in the light of all that has happened since, it does fit into an overall pattern.  The Sunday I attended with my wife was the Sunday after Christmas, one of the few Sundays available for a working clergyman to attend church elsewhere!  I remember no details about the sermon, except that Reid included an order to everyone in the building to turn to their neighbour and tell them that they were ignorant.  It was, in retrospect, a deliberate and blatant attempt to humiliate and disempower the people there.  To compensate there was entertainment from well sung music, though as I have said in a previous blog post, such entertainment is a block to proper thinking.
Reid's church was part of my overall research on abusive churches at the end of the 90s.  It does not get a mention in my book as I had no personal contact with anyone there.  The church achieved a certain notoriety in 2002, I think, when Martin Bell stood against the local Tory parliamentary candidate as a way of pointing to a claimed infiltration into Tory ranks by members of the church.  More importantly, six years ago, (almost to the day) Michael Reid was suspended from leadership on the grounds of adultery.  It appeared that he had engaged in a relationship with the choir mistress for some eight or nine years.
This shock to the church might well have closed down many other churches in this situation, particularly ones that were so much an outworking of a single personality.  But such was the wealth of the church and the power of the founding families that the church has struggled through to reorganise itself and carry on.  As a stop-gap, it was thought then, the trustees appointed the assistant, Peter Linnecar, to the job of chief pastor.  To keep him sweet, they also agreed to pay him £80,000 p.a.  They then decided on a name change from Peniel to Trinity Church.
It was only after that Reid had left that the full horror of his cultic empire began to come clear.  All the tricks of cultic manipulation had been practised over the years, especially the tactics of fear and threats.  With Reid gone, there was a mass exodus of around 600 people.  These joined other churches in the area or simply stopped attending.  But Trinity was not going to die.  One of the things that has kept it going is the way that members have allowed their children to marry one another so that for many, church members and close relatives are the same people.  Obviously not being close to the situation I do not know the details, but there appears to be a hard core of intermarried supporters of the church who are unlikely ever to leave.
The other strength of the church is in its considerable wealth.  It had acquired a large building for a school and owns other premises which are a magnet for other church organisations in the area who lack these sort of facilities.  One evangelical organisation, Amnos, runs its activities from the Trinity buildings.  The source of this wealth may be traced back to the 30 + years of hard tithing but it is questionable whether all of it has ended up being used for charitable purposes.  Apart from spending large sums on law suits, the sacking of Reid has proved very expensive for the church.  Reid himself, though discredited, has still ended up an extremely wealthy man in retirement.
The source of extensive information on this church has come via one Nigel Davies.  Nigel attended Peniel/Trinity for some years and was, to all accounts, a respected member.  His gifts as a musician seem to have utilised by the church and his own father received a dramatic healing at the hands of Reid sometime in the early 90s.  At no time has Nigel attempted to downplay this healing event.  Nigel's blog, http://victimsofbishopmichaelreid.blogspot.co.uk , is an attempt to get the church to own up to its cultic past and make a public apology for the suffering caused to a  large number of people.  His blog is now beginning to wind down, but sadly it is evident that the present leadership has no intention of looking under any stones, in spite of the three year campaign.  From the outsider's point of view the blog has operated at more than one level.  On the one hand we have the campaign itself and its demands.   But we also have all the information about the church that finds its way on to the blog, particularly the details of the interactions between the church members and others.  On many Sundays, Nigel parks his car close to the entrance of the church with banners asking for an apology for past failures.  It is clear that the church does have many skeletons lurking in the cupboards.  A refusal to face up to them and make a clean breast of them is hampered by the continued leadership of Reid's former right hand man, Peter Linnecar.  Nigel's campaign also demands his resignation.  Clearly Peter knows many of the church's dark secrets but he has too much to lose by resigning.  His continued position as leading pastor has so far kept a lid on the situation and prevented the kind of frank openness that Nigel is demanding.
Nigel's blog, and my own participation in it, has in some ways inspired my present efforts on surviving church. org.  At a time when I am reflecting on and studying charismatic and church leadership, the Reid/Linnecar saga has provided week by week material to test various theories about the nature of such leadership.  What are the themes that I take from Nigel's campaign?  Some of these I have already spoken about.  Others I have yet to discuss.
The potential for large sums of tithed money to corrupt and undermine both leaders and members in 'cultic' churches.
The issue of unlimited power enjoyed by charismatic leaders translating itself into sexual exploitation.
The lasting effect of Christian betrayal on the spiritual and psychological health of ex-members.
Churches that consist mostly of people who are related to one another by blood or marriage are going to preserve some suffocating dynamics.  This is also an issue for some small churches in the deep countryside.
Giving too much power to a single individual in a church is seldom healthy.  Few people will exercise unchallenged power properly over a long period of time.  This is as true of politicians as it is of church people.   The Greeks had a word for it – hubris.  I shall be writing on this at some point.