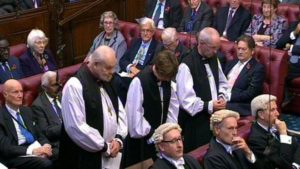 The background to this powerful letter to the House of Bishops from 'Joe' is as follows. Joe was sexually abused by a senior churchman and emotionally abused by another nearly 40 years ago. His experience of trying to bring these episodes to the attention of bishops in the Church of England was constantly frustrated and he was met with massive obstacles. Eventually a report was commissioned into Joe's case by the Diocese of London, and the Elliott Review was duly produced in March this year. A meeting of the House of Bishops last month (May 23-24 2016) was addressed by Bishop Sarah Mullally, Bishop of Crediton. She had been entrusted with the task of implementing the Review and making sure that all the Bishops understood its implications for future practice. The House, according to reports, has agreed to a number of sweeping changes in the implementation of safeguarding practice by every diocese. Two particular issues came out of Bishop Mullally's presentation. (See the blog post written on the 5th June) The first was that safeguarding procedures must be made standard right across the church. There can be no room for a local bishop to deviate from following best safeguarding practice. The second principle was to ensure that pastoral care for survivors must take priority over the demands of the church's own insurance company. This company, Ecclesiastical Insurance (EIG), seems to encourage bishops and other church officials to clam up when faced with crucial questions in historic abuse cases.
Joe's letter must be read against the background of knowing that at least some of his expectations have been met. Initially Joe had been told the Bishops were planning to delay changes, hence this passionate letter. We await to see whether the Church of England can indeed move to make the changes demanded by the Elliot report. Quite apart from what happens in the future we have in this letter a powerful emotional plea which gives us a strong sense of the frustration and powerlessness of the survivor when facing a brick wall of official intransigence over many years. Joe's persistence has, we would claim, significantly cracked open the logjam of colluding official power structures that today exist in the Church of England. The Goddard report, when it finally appears in five years time, may well deliver another blow to a system of power and patronage which so often protects the powerful against the weak.
We are very grateful to Joe for letting survivingchurch publish this letter. It is of historic interest as well as being a testimony of the strength of a survivor when facing almost impossible odds. The partial victory of David over a Goliath of official inertia, indifference and protection of privilege is to be celebrated and applauded.

Letter to Church of England Bishops

I call on the House of Bishops to repent at your meeting in York at the end of this week. Others in the survivor community are saying the same. Repentance implies action and not just words – it is about turning around 180 degrees and starting again. The crisis this senior layer has brought upon itself has finally woken the church up to need for real change. If the bishops hope to delay changes as we are told you might, the situation will be acutely embarrassing. It is a worrying indication of a culture in denial and paralysis that no bishop has commented on the Elliott Report since it came out in mid March -100% silence. Perhaps your strategists have given instruction to ignore it and ride the storm out. I think their advice present in much of your hidden structure of response to survivors has been spectacularly bad. It has led you away from the values of your own gospel and narrative.
I am urging Bishop Paul Butler, Bishop Tim Thornton and Archbishop Justin Welby to lead a call for repentance across the whole House of Bishops. All these bishops have involvement in my case. Denial of disclosures to senior figures ("no recollection") and blanking of crucial questions by the bishop I reported to were main features of the church's response in the findings of that report. Along with reckless compliance to the demands of Ecclesiastical, your own insurer. And silence from Lambeth Palace to more than a dozen cries for help. Similar experiences of many other survivors from what MACSAS* tell me – indicate many other bishops know the same powerful criticisms apply to them. This cuts across the board.
The House of Bishops needs to show clearly that you are finally able beyond the eleventh hour to work rapidly for profound change in your culture and structure – arising from honest acceptance of the mess you have made. Survivors will know the weight is lifted when we see the church willing to buckle beneath the weight of the questions and all the impact – that we carry on the church's behalf. When we see the church being honest and transparent in its answers to questions – then we'll know the weight is shifting to where it belongs. The senior layer needs to dig its way out of the hole you have dug yourselves into. Cover-ups, denials, obscuring of issues, intentional inertia, fog, smoke and mirrors, blanking of questions, unchallenged power of bishops, legal games, incestuous dependence on your own insurer to limit liability, unethical closing down of cases and withdrawal of support on the instructions of EIG, bewilderingly adversarial settlements – all of which I and many others have experienced – all this must come to an end in real repentance. So that survivors, those of us currently on the way through a process and many others yet to come forward, are responded to safely and sanely. You can no longer operate a mirage in which Responding Well can be torn in two to suit the interests of your own insurer – especially when the aims and actions of EIG run so malevolently counter to your own stated guidelines. This mirage is rotten, can only do further harm, and must now stop. You need to disentangle your response to this problem from your own insurer – it has led you into deep complicity and does enormous damage to both survivors and yourselves.
But you know what to do. You have been told many times through regular visits of survivors to Lambeth Palace and repeated challenges to your Head of Safeguarding. Challenges to so many of you in fact – from survivors and others, both in person and through growing number of articles in the press. You cannot wait for more waves of crisis to hit you before finally doing the right thing. If you continue to rely on the tenacity of survivors to do all the painful work of trying to transform your structure – the Goddard Inquiry will be over and the church you lead will look powerfully diminished. Senior leaders and bishops need to show tenacity yourselves and act quickly now to transform the situation for everyone. This starts with repentance and real action arising from a commitment to change. If you can make this collective decision at this critical House of Bishops assembly – you are likely to move forward through the Goddard Inquiry and everything yet to emerge with greater grace and much less pain. And better prospect of healing for everyone, including yourselves. The church can hold its head high knowing it is doing the right thing. If you make the wrong decisions – well, it seems obvious to survivors that there is no grass left to kick changes into. The crisis will be acute and can only deepen. The Elliott Report into my case could be repeated across so many survivor experiences – as similar issues have appeared again and again elsewhere. I don't how more embarrassing you need a Report to be .. so it astonishes me and other survivors I am in contact with – to hear that the House of Bishops might try and delay changes. I urge you not to. I urge you to repent.
'Joe' of the Elliott Report
*MACSAS is an acronym for the Ministers and Clergy Sexual Abuse Survivors