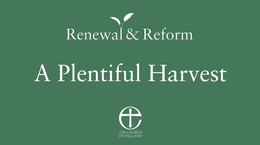 Reading an article in the Church Times on the topic of Renewal and Reform has left me with questions. To recap what the initiative known as R and R refers to, (for the benefit of non-British readers) it is a scheme which has been put in place by the Church of England to promote growth in the dioceses. The initiative, because it may stem heavy losses in Anglican church attendance, has attracted quite large sums of money from the Church Commissioners. In some places the money has been used to facilitate church planting. Church planting is a controversial activity and it involves a large active 'successful' church sending out a number of its own group to form the nucleus of a new congregation elsewhere, sometimes in another part of the country. Sometimes this new congregation is set up within an existing ecclesiastical parish. On other occasions a parish church, thought to be on its last legs, is effectively taken over by a new influx of people coming in from outside the area.
The new congregations, the church plants, are often placed in areas that might struggle to attract viable numbers of people to support the buildings. The individuals sent to start these new churches tend to be made up of largely young people. The demographic of 18 to 30-year-olds also seems be the group most attracted to these new congregations. As might be expected, the worship styles offered at these new church plants will have lively music and they will also take care of the community needs of their young clientele. I have no personal knowledge of any of these church plants except I heard some comments made about a congregation imported into Norwich city from HTB (Holy Trinity Brompton) in London. This new plant alienated some of the existing congregations by the way that it hoovered up many of the young people who had been attending other churches in the city. This particular plant was, in short, being accused of poaching existing Christians rather than being a place for evangelism of the hitherto unchurched residents of Norwich.
Most church plants seem culturally to belong to charismatic wing of the Church of England. But the question that occurs to me whenever I look at one of these congregations, even from afar, is whether they are catering for any age group apart from the young. The age profile of most of these congregations seems to be the same, 18 -30. It was always said about a large successful charismatic congregation in Edinburgh, popular with students, that the average age was about 27/28. During the 7 ½ years that I was in the city, this average age never varied. I remember having a conversation with someone about this never changing average age issue. What happens to those who are 35 and over? The answer seemed to be that because the culture of the church no longer suited the older group, they moved on elsewhere. As far as I know no one has done any research on this question of what happens to people who spend 10 years or so as part of a lively charismatic congregation. What are their reflections on that experience? What do they take with them from that exposure if they move on into another sort of congregation, assuming they still want to remain part of the church? I would suspect that many people who have passed through the lively, growing and dynamic congregations of places like HTB have quite different spiritual and social needs when they settle down with families. Do some of them look back at the charismatic stage as being part of the experience of youth, like being a student? I would love to know the answer to these questions. I suspect that were the answers available, they might not be quite as helpful to the future of the Church in England as many of our leaders think. It is easy for a bishop to see a lively congregation and feel that because of the levels of enthusiasm being expressed there that this is the future. They see a lively institution but not the actual individuals within it. What works for a cohort of what is known of emerging adults may not in fact be any realistic solution for the totality of the church-going population of Britain. That is the possible weakness of a perspective that wants to plough considerable sums of money into promoting manifestations of church life that are not congenial to all.
Speaking for myself I have found that my spiritual needs have varied over the years. While my young self would have tolerated noise and spiritual excitement of the kind peddled by charismatic churches, the same cannot be said for my older (hopefully wiser) self. Perhaps I speak for many of my age group when I say that noise and loud music in worship is now a complete barrier to any encounter with the spiritual. I am far more likely to be stirred into spiritual receptivity by silence, possibly enhanced by some visual component. I recently read the blog comments that I made a year ago at Christmas. I then pointed out that Christmas is a festival which makes extensive use of pictures and visual symbols. We have presented to us pictures of an ancient story -cribs, angelic choirs and journeying wise men. All these pictures draw us into the mystery of Christmas. In the contemplation of the visual symbols of Christmas, we do not have 'correct' interpretations. We find the divine realities implicit in these images touching each of us in their own way. I find, in fact, the heart of Christmas in the words of the carol – how silently how silently, the wondrous gift is given. The nature of the Christmas gift does not have a precise identical content for everyone. Rather it is a gift that needs to be unwrapped by each of us and its substance will vary as we are varied. God is offering to come into our lives. He is, by coming into our world, offering to come into our hearts. How we receive God in the form of Jesus is our lifetime Christian project. We will need at each stage of our life a slightly different key to unlock that presence. Our churches need to provide help to all its members to be open to the reality of God at every stage of their lives, from childhood to extreme old age. Let us never be tempted to cater only for a single age group, but attempt to see Christian life as a changing and evolving whole.