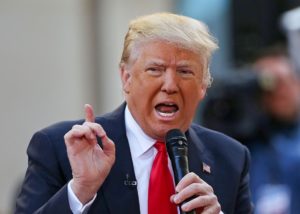 On the 3rd October, there will be an important event in American publishing. That is the day when a book entitled The Dangerous Case of Donald Trump is published. It is the work of 27 psychiatrists, psychologists and mental health experts who have cooperated to assess President Trump's mental health. This book is thus not one individual sounding off with his pet theory about the president. It is the psychological community coming together to express a consensus about what they see in their president and why it is they are fearful for the future.
The full contents of the book have obviously yet to be revealed. But, one of the contributors is a distinguished academic who has been writing for 55 years on such things as brain-washing, cults and the behaviour of groups. His ideas have influenced many other writers and researchers who have come after him. His name is Robert Lifton and long-term readers of this blog will know that that I have discussed his ideas before. In describing something about the book, The Dangerous Case, Lifton gives us a statement of what appears to him to be the fundamental problem with the psychological functioning of the president. It is this short summing up of the problem of Trump's mental health which I want to share with my readers. I do this, not least because it describes a pathology sometimes found in religious circles and among church leaders.
Lifton uses a word which I have to confess was unfamiliar to me until I looked it up on an on-line dictionary a month ago. The word is solipsistic. It means focusing only on things and people that protect and work for the interests of the self. This reality that is created by concentrating on the self and its needs is described by Lifton as the solipsistic reality. In every decision made there is the same question. 'What is in this for me? How can I gain something from this?' If the reality presented has nothing to offer to one's advantage, then it is ignored or pushed aside. Solipsism is perhaps a normal part of being a business man when you make rapid calculations as to whether a deal will profit the company or firm. But, as Lifton points out, it is a disastrous position to hold when you are running a huge country and have responsibilities for the whole world.
I thought about the accusation against Trump and realised that a lot of people think in the same way. The 'what's in this for me?' question is likely to dominate the awareness of many people, from small infants onwards. Nevertheless, the hope of Christian education is that when love comes to be internalised, the possibility of true altruism becomes actualised in the individual. Developing altruistic motives for our actions is a gradual process. All too often we find ourselves slipping back into making decisions that ultimately benefit only ourselves. But even if we fail the solipsism test from time to time, I think it is true for most of us that we have at least the imagination to know what an utterly unselfish action might look like. We can normally imagine what another person is thinking or feeling. Our response towards them, at least sometimes, is conducted in such a way that our own feelings or interests are put firmly to one side. In short, the solipsistic reality is not the only or even the dominant reality in our lives.
According to Lifton, every decision made by Donald Trump seems always to involve something calculated to benefit him. Sometimes the benefits are financial; on other occasions, the reward is emotional. A speech given in a political rally seems to be about making Trump feel loved by his supporters rather than serving any serious purpose. Even his recent consorting with Democratic politicians seems to have been effort to curry favour with his liberal critics. But the point of this post is not really to be talking about Trump. His name comes up once more because he reminds us of a type of leadership which we find among religious leaders who exploit power for selfish ends. Lifton's category of people living in a 'solipsistic reality' seems to embrace this band of leaders as well.
I have been recently once more studying the Langlois report on Peniel Church and ministry of Michael Reid and I see solipsism as a key reality there too. Without laying out in detail all the crimes of which Reid and his henchmen stand accused, the naked examples of abuse of power in that church over a long period of time are classic examples of self-serving behaviour. Imaginative altruistic care of others became impossible when there was so much concentration on the amassing of wealth and gaining power. We might speculate that when the possession of a power which cannot be challenged is achieved, those who wield this power adopt a solipsistic personality disorder. It will always be highly dangerous for those around. Lifton's conclusion is that Trump's 'solipsistic reality will be the source of his removal from the presidency.'
We will see whether the book due out on October 3rd will have any impact on the political scene in the States. Meanwhile I have acquired a new word to describe a temperament which has utter contempt for the true feelings or needs of another person. When such behaviour creeps into the church we find that we are in a dark place. Evoking the power of God to prop up human solipsistic tendencies is a hard thing to battle against. The person we face may well have lost his or her connection to any altruism they may once have possessed. In the place of human love, we may see the dark face of an utterly inflexible exercise of power. This is the power which seeks to do nothing more than to serve the emotional needs of the bully.