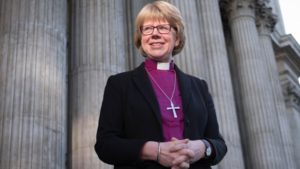 On the face of it the appointment of Sarah Mullally as Bishop of London is excellent news for most of us. She is, first of all, a woman, and this bodes well for the participation of other women in the future within the Church. In second place, from the perspective of this blog, she is someone who has insight into the issues of power abuse in the church. She was asked by Archbishop Welby to oversee the implementation of the Elliott report which came out 18 months ago. The basic thrust of the Elliott report was to push for all Anglican dioceses to adopt a common safeguarding practice. How much has actually been done in fact to change the practice of Anglican Dioceses and their Bishops is unclear. The recent Carlile report does not give us an enormous amount of confidence that Bishops and their advisers always understand problems of implementing good safeguarding practice. Janet Fife's contribution to the previous blog suggests that there is still considerable ignorance among those appointed to safeguarding posts about the history of abuse issues in the church.
Alongside our congratulations and delight in this appointment there are some concerns. The Diocese of London is well-known as the centre for a variety of fundamentalisms, both the high church and the evangelical varieties. I was remembering last night a joke connected with fundamentalism. The question is asked. What is the difference between terrorist and a fundamentalist? The answer is that a terrorist may be willing to negotiate. Whether I remember the joke accurately or not, this version makes a point quite well. There are in the Church many people for whom changing their minds or their grasp on facts is completely impossible. In some situations when dealing with fundamentalists, there is the sense that one is facing an immovable object and an irresistible force at the same time!
When I was last a vicar in an English parish there was a group in the church who had learnt the faith in such conservative places as St Helens Bishopsgate in London and St Aldate's in Oxford. The common feature of this group of conservative parishioners was that they never changed their minds about anything. Nor were they prepared to learn anything new, at least not from me, an Oxford educated liberal. Truth for them was fixed and unchangeable, a version of which they had learned decades before. It is a style of Christianity which I found very off-putting. I cannot imagine that, for all their talk of evangelism, they were able to draw any new people into this way of thinking. There was something barren, dry and totally unattractive about this style of message. In some ways the Diocese of London is like my old parish in Gloucestershire. Of course, the scale is massively different. Considerable numbers of Christians in London nevertheless hold conservative views on issues like the ordination of women and sexuality. For many of these Christians the test of one's orthodoxy and thus salvation is whether you hold correct opinions on these issues
We have pondered many times on this blog about how and why the issues around sexuality have become so important in the minds of many conservative Christians. Such Christians will make life fairly difficult for a bishop who is both liberal and tolerant of the same sex community, even while she does not promote formal marriage for them.
The placing of Bishop Mullally into a profoundly conservative diocese is a high-risk strategy. She may have many qualities both personal and professional. But there is however, no doubt that she will face enormous pressures from a large body of Christians who think that anyone who does not agree with them must be shut out. Has she the stamina to put up with such relentless opposition?
A few years ago there was a television programme about St Paul's Cathedral when Lucy Winkett was first appointed to be a Canon Residentary. Who can forget the way the television cameras showed us rows and rows of empty seats in the Cathedral which had been reserved for Diocesan clergy? It was said that a full 50 % of the clergy in the Diocese signalled their disapproval by simply not turning up. This kind of intransigence is still alive and well in the diocese as far as I know. Bishop Chartres has preserved a level of peace by refusing to ordain women. He has worked with them but delegated their actual ordination to his suffragan bishops. This was never a satisfactory solution. By not resolving this and other anomalies in the diocese the somewhat provocative appointment of a woman is even more of a shock in this profoundly reactionary institution. It remains to be seen how things will pan out.
Bishop Mullally is only 55 and she may be in post for another 15 years. She needs a great deal of prayer to stand up against strong reactionary forces which seem so thickly concentrated in our nation's capital. She also needs our prayers to further her work of safeguarding. She is still needed to challenge the power structures Gilo has identified which work against openness and justice. Let us hope that she can hang on in there, buoyed up by the thought that her presence in London is an important symbol for the whole church. As a woman in an institution which has been a bastion for patriarchy and male privilege for so long as well standing up for survivors, she is helping us all. It matters a great deal that Bishop Sarah will have the grace and the strength to persevere and defeat all the obstacles that no doubt will be put in her way.