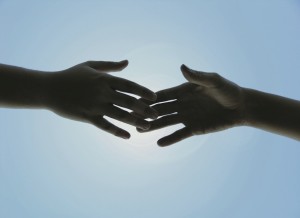 Some years ago I was asked to write a short piece on the topic of touch in connection with the healing ministry.  It was requested at the time when serious stories of abuse within the healing ministry were beginning to emerge.  I was also personally hearing of cases of sexual abuse perpetrated by individuals who were claiming to be exercising a healing ministry. There was dilemma to be faced as  it is difficult to exclude touch completely from a healing ministry.  This ministry after all is sometimes called 'the laying on of hands'.
Parallel to the issue of how the laying on of hands should be exercised in prayer for healing was another problem for many churches –the advent of the 'Peace'.  Depending on the church you attended, this could consist of a solemn handshake, a smile or a full-blooded embrace.  Churches which went in for the more extensive forms of greeting, tended to be more at the conservative end of churchmanship.  If you were able to enter into this kind of intimate greeting with a fellow member of your Christian community, so the thinking might go, then this implied that you possessed a greater 'freedom in the Spirit'.  I personally have no problem with 'liturgical embrace' or whatever we might want to call it, but equally I feel it important to be sensitive to the needs of those who are uncomfortable with this gesture.  I used to know an elderly retired clergyman who insisted on embracing every female in the congregation as they left church.  Because he had been doing it for a number of years no one asked the question as to whether it was sensitive or appropriate.  My take on the situation was that it was in itself in his case an innocent gesture but that It was not demonstrating sensitivity.  The embrace of a stranger is invasive and may in fact stir up memories  of an episode of actual abuse in the person submitting to the embrace.  Just because it does none of this in the vast majority of cases does not mean that this possibility must not always be at the back of our minds.
In thinking about healing ministry, I know from my own experience that it is totally intuitive to ask to hold the hand of the person being prayed for.  Physical touch, whether holding a hand or placing a hand on the shoulder seems to me a natural part of what it means to pray for another person.  It is an outward sign of the connection that is set up when two people opens themselves up to each other in trust and love.  It also expresses symbolically that one person, the one who ministers, is alongside the other as they approach God together in prayer.  Praying with and for another person brings out something which I have never seen fully discussed in books on pastoral care.   This is the fact that when people prays in twos, threes or small groups, they can touch the reality mentioned in the New Testament and which Jesus speaks about when he says-  'When two or three are gathered together in my name, there I am in the midst of them.'  I have found this little discussed passage of great significance in trying to understand the dynamics of the healing ministry.  People who pray together are for a brief moment brought into a more intimate connection than at any other time.  It is as if, in Christ, they touch one another with a greater closeness than they may have ever known before.  This moment of closeness has to be allowed to pass as there is no room in the healing ministry for clingy, potentially exploitative relationships.  This may happen if the person prayed for feels attached to the one prays and the 'minister' encourages that connection.
Anything that is holy and good, such as what I have been trying to describe, always has the potential to be turned upside down and made cheap, exploitative and abusive.  That is, sadly, a constant theme of this blog.  Healing can be something spiritual, transformative and pure; equally it can be the prelude to dependency, exploitation and worse.  The same thing can be said about touch.  At its best it can express the connection that two (or more) people feel belongs to them as disciples of Christ.  It can be an effective symbol for expression of 'koinonia' or communion.  Equally it can be a grubby, sexualised action and a symbol of one person's desire to dominate and exploit another.  The Christian faith is always going to have these alarming contrasts between good things and good things that have been twisted by selfish and corrupted individuals.  It is perhaps the aim of this blog to sensitise the reader to the reality of these contrasts.  Most Christian abuse will be presented in the wrapping of Biblical texts and apparently normal behaviour.  It is for the informed (educated by this Blog?) Christian to be able to sense and name all forms of spiritual abuse that are encountered in the day to day lives of our churches.  No doubt we will be returning to this theme again.